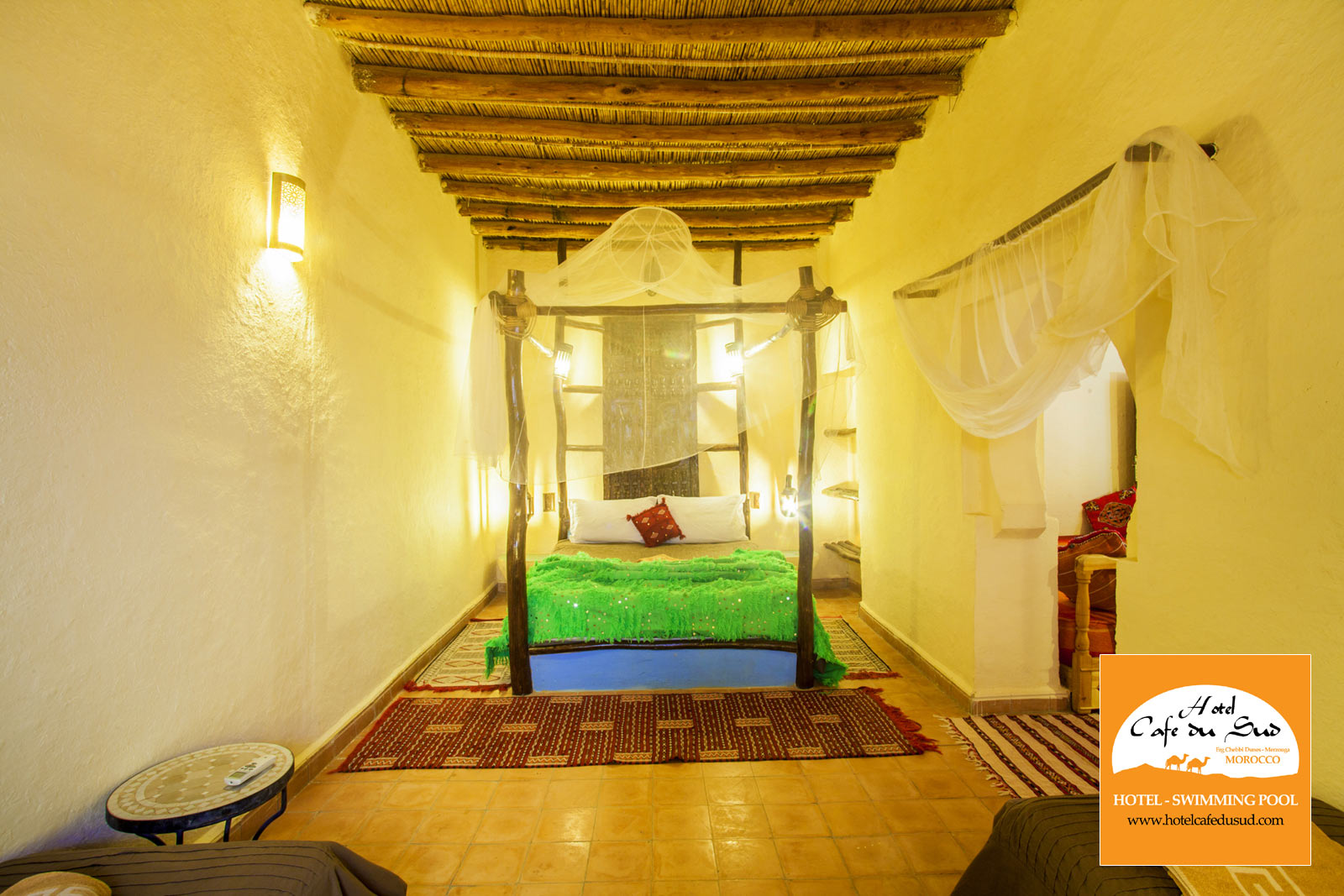 A family-friendly hotel ideally located in the Sahara Desert, with an on-site swimming pool, restaurant, and free parking. Set by dunes near Merzouga, Café du Sud desert hotel offers a peaceful stay. While searching for "hotel Morocco" you will notice that is actually not hard to find, but question yourself about what you really want for your holidays, as not all hotels will offer you the best service and location. We invite you to book a room with us and enjoy quality time in the Sahara.
The suites and rooms:
Hotel Café du Sud offers two types of sleeping options: suites and rooms, spread over several accommodation blocks. The rooms are spacious, comfortable and have a bed and a sofa or large lounge area.
The bathrooms:
Hotel Café du Sud bathrooms are also decorated with traditional Moroccan motifs so that the whole set of rooms will blend perfectly to the desert ambiance. All bedrooms offer a private bathroom with shower and basic toiletries.
Housekeeping & laundry
Daily Housekeeping
Weekly Housekeeping
Full-Service Housekeeping
Dry Cleaning Pickup/Laundry Service
Hours of Operation: 8 am to 12 pm
Hotel in Morocco / our services:
Ride on a camel over sun-soaked dunes as this astonishing landscape unwinds in front of you. Soak in our refreshing swimming pool while beautiful landscapes surround your eyesight. Be inspired by renowned Berber and Arabian décor, that showcases the best design of this little corner of North Africa.