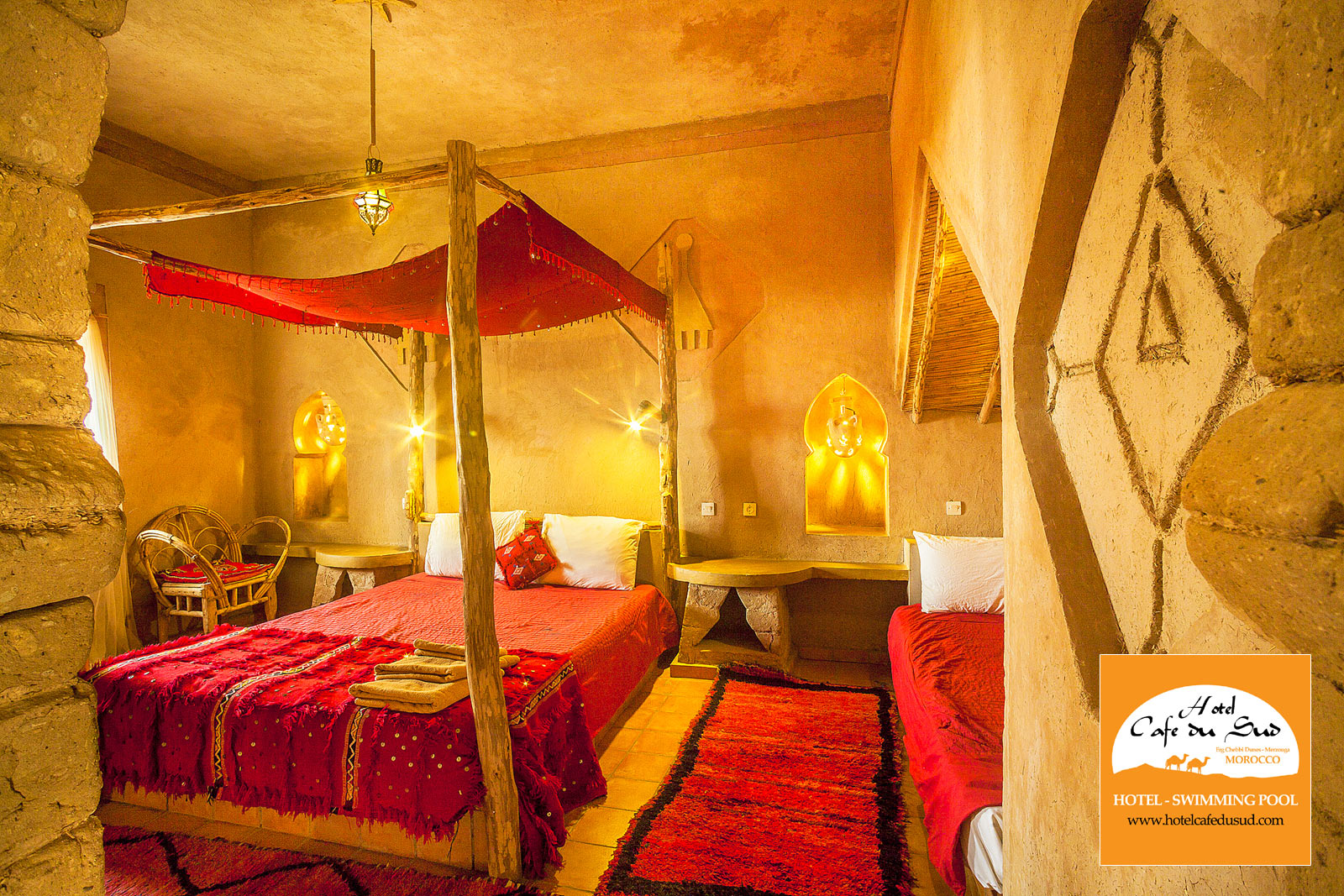 " Hotel Café du Sud's attention to detail is nothing like you have ever experienced before… "
Inspired by the region nomadic heritage, we worked with local craftsmen to recreate adobe structures so our guests feel transported into another world and have the sense of being somewhere exclusive and unique. Located in an ancient Sahara Desert nomad trade route, Café du Sud – Hotel Merzouga – welcomes you to Erg Chebbi Dunes. Each room is decorated differently and with a special touch so guests can indulge at their own pace, enjoying their stay in the desert.
The star-filled sky serves as a ceiling for the swimming pool and bivouac area. Why would you want anything between you and the world's clearest skies? While searching for "hotel Merzouga" you will notice that is actually not hard to find, but question yourself about what you really want for your holidays, as not all hotels will offer you the best service and location. We invite you to book a room with us and enjoy quality time in the Sahara.
The architecture and building elements made of adobe, stone, and palm tree wood, mixed with modern materials, give an incredible exotic ambiance to the hotel facilities. After a day spent exploring the impressive natural scenery of the Sahara Desert, return to Hotel Café du Sud for a swim in the pool, a drink by the fire pit and long evening meals in our restaurant.
Hotel Merzouga Services:
Ride on a camel over sun-soaked dunes as this astonishing landscape unwinds in front of you. Soak in our refreshing swimming pool while beautiful landscapes surround your eyesight. Be inspired by renowned Berber and Arabian décor, that showcases the best design of this little corner of North Africa.
Client Testimonials:
"Wonderful stay in the desert…"
This hotel was such a delightful surprise! Our entire package included transport to and from Marrakech. The drive to the desert included several stops and was very scenic. Upon arrival at the Café du Sud hotel in Merzouga, we were greeted with tea and shown to our rooms. We did a 4-hour tour the next morning which was fantastic before heading back to the hotel to collect our things for the camel trekking ride out to the luxury tents. This was by far my favorite part of the weekend. We watched the sunset on the sand dunes before heading to the camp which was very nice. Bathrooms and showers in the tents! The next day we woke up early to see the sunrise before breakfast and another camel ride back to the hotel. I can't thank enough the friendly staff and the hospitality at Café du Sud.
by Kari W.
"Most amazing desert experience!"
The Hotel Café du Sud was recommended by a friend that came a year ago and we were excited and had high hopes for our trip. From the minute they picked us up at our riad Friday morning all our expectations were exceeded. The 10-hour drive didn't feel long at all with our frequent stops at the beautiful landscape and interesting sites. When we arrived at the desert hotel on Friday night we were delighted with the location looking over the dunes and the adorable rooms. Dinner by the pool was amazing too. Saturday they took us on a drive all around the Erg Chebbi dunes which was so lovely. Then it was off to ride camels and stay in the Berber tent for the night which was so magical. I highly recommend this trip!
by Sarah H.
► Read more client testimonials here.